The backstory: This couple was posing for their wedding photog when they were photobombed by a random gent. And the bride and groom are still smiling. Maybe even smiling bigger because that one photo has a little more flavor for the weirdness of the moment.
Is every wedding misstep or mishap cause for celebration? Of course not. But no wedding is perfect. Not ours, not yours, no bride's. You can get pretty close to perfect – if you're lucky. Luck plays so much into it, honestly. Consider the weather.
You can't do anything about it if you're planning to say your vows outdoors. Just like you can't do anything about your mouthy Aunt Edna who says whatever comes into her head, come what may. Some things? You can control. You pick your bridal jewelry. You pick your wedding dress – which isn't to say that something horrid can't happen along the way because it can. But you can't help moments like this one.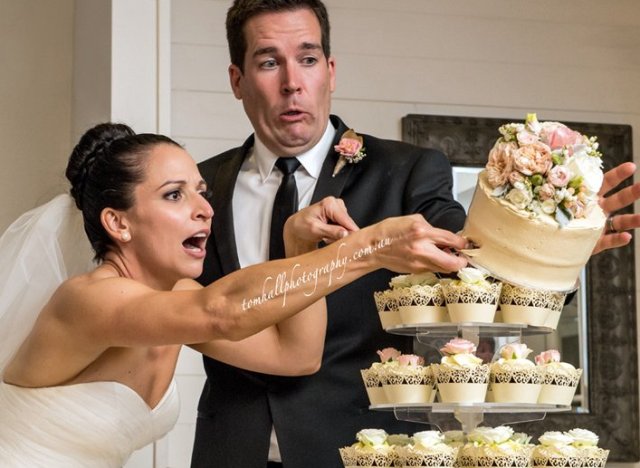 Point being, there's no sense in getting incensed when the inevitable happens and something goes amiss. Bad things happen and as much as you'd like to plan for every wedding day emergency, you can't. Maybe you open your garment bag and your gorgeous gown has a stain that came from who knows where but it's there now. Maybe the best man never shows. The caterer delivers a sit down meal for half as many guests as you actually have.
Maybe the dock where you were taking pics sinks out from under your wedding party's feet.
Or maybe it's something as simple as a photobomb.
How you react to wedding day disasters big and small may just set the stage for how you react to the kind of everyday disasters every married couple has to deal with. The fridge goes bust. There's a leak coming from inside a wall. Or you're arguing about the dishes. Again. Make your wedding day a day where you practice a skill you'll need for the rest of your life. Bad things happen; it's how you deal with them that matters, now and for the rest of your marriage!